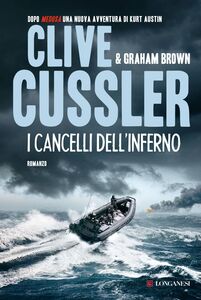 «I romanzi di Clive Cussler sono come quei blockbuster cinematografici che vorresti snobbare ma no, devi ammettere che vincono loro.»
la Repubblica

In una vita sul mare con la NUMA, Kurt Austin ne ha viste tante, ma lo spettacolo che gli si presenta al largo delle Azzorre ha davvero dell'incredibile. La Kinjara Maru, un cargo giapponese, ha subito un attacco di pirati, che invece di depredarla e prenderne possesso, come accade di solito, le hanno dato fuoco e l'hanno affondata, lasciando solo una sopravvissuta: la moglie del capitano, che non ricorda nulla del terribile assalto. Solo una sensazione di stordimento, e poi la violenza dell'incursione a bordo di un manipolo di uomini incappucciati, dalle cui sevizie l'ha salvata solo l'intervento di Austin e dei suoi uomini. Perché tanta brutale ferocia? Che cosa trasportava quel cargo che non doveva arrivare a destinazione? L'anomalo attacco dei pirati è solo il primo tassello di un complicato puzzle che Kurt Austin, Dirk Pitt e i loro compagni dovranno completare se vogliono scongiurare una terribile minaccia che incombe sul mondo intero. Una minaccia che ha le sue origini in Africa, dove un feroce dittatore intende tenere in scacco le maggiori nazioni del mondo attraverso la creazione di una potentissima arma di distruzione di massa, con la quale è pronto a colpire le principali capitali mondiali. Un'arma alla quale manca solo un ultimo, determinante elemento… Per gli eroi della NUMA la sfida, questa volta, sembra proprio impossibile.

Book details
Publisher

Language

Publication date

Page count

Collection

Series
About the author
Clive Cussler
CLIVE CUSSLER (1931-2020), uno dei rari scrittori in cui vita e fiction risultano indissolubilmente intrecciate, è stato il fondatore della NUMA (National Underwater and Marine Agency), società dedicata al recupero di navi e aerei di rilevanza storica scomparsi in circostanze misteriose, e ha trasposto nei suoi romanzi – tutti bestseller – la propria straordinaria esperienza di cacciatore di emozioni. Le sue opere sono pubblicate in Italia da Longanesi.

I romanzi di Clive Cussler usciti di recente:
Il tesoro dei Romanov
Il cecchino
Come l'alta marea
Il contrabbandiere
I tiranni delle ombre
Pirati
Il destino del faraone
Opzione finale
Lo spettro grigio
Oro nero
L'oracolo perduto



Graham Brown
Graham Brown, avvocato e pilota, è autore dei thriller Black Rain, Black Sun e The Eden Prophecy. Vive in Arizona.