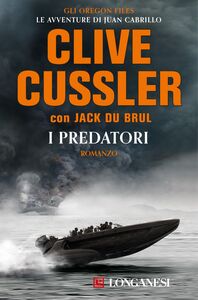 «
Cussler è sempre il migliore.
»
USA Today
Per Juan Cabrillo e la sua Oregon ‒ all'apparenza un anonimo e dimesso mercantile, in realtà una nave sofisticata dotata dei più avanzati sistemi tecnologici ‒ l'incarico arriva da Oriente, e più precisamente da un consorzio di armatori giapponesi, preoccupati da un'ondata di pirateria che sta dilagando nel mar del Giappone.
A essere presi di mira non sono, come accade di solito, piccole navi e yacht turistici, ma enormi mercantili, che «spariscono» letteralmente insieme al carico e all'equipaggio. Pirati che hanno unito le forze? Una nuova centrale di terrorismo internazionale che ha trovato un modo di finanziarsi? Basta solo l'ipotesi di questo collegamento per spingere Cabrillo, che vive sul mare e per il mare, ad accettare la missione e a cominciare le indagini. Ma quando insieme al suo equipaggio di uomini e donne superaddestrati e pronti a tutto si confronta con il nemico, scopre che la posta in gioco è molto, molto più alta e che a muovere le fila di tutto sono figure davvero insospettabili.

Book details
Publisher

Language

Publication date

Page count

Collection

Series
About the author
Clive Cussler
CLIVE CUSSLER (1931-2020), uno dei rari scrittori in cui vita e fiction risultano indissolubilmente intrecciate, è stato il fondatore della NUMA (National Underwater and Marine Agency), società dedicata al recupero di navi e aerei di rilevanza storica scomparsi in circostanze misteriose, e ha trasposto nei suoi romanzi – tutti bestseller – la propria straordinaria esperienza di cacciatore di emozioni. Le sue opere sono pubblicate in Italia da Longanesi.

I romanzi di Clive Cussler usciti di recente:
Il tesoro dei Romanov
Il cecchino
Come l'alta marea
Il contrabbandiere
I tiranni delle ombre
Pirati
Il destino del faraone
Opzione finale
Lo spettro grigio
Oro nero
L'oracolo perduto



Jack Du Brul
JACK DU BRUL è autore di una delle serie di romanzi d'avventura più popolari degli ultimi dieci anni negli USA. Il suo sodalizio con Cussler come coautore degli Oregon Files è stato la realizzazione di un sogno per gli appassionati d'avventura americani.