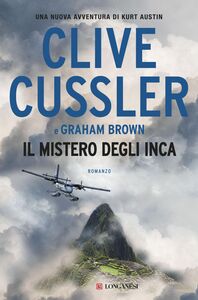 «Dal Pacifico fino alle Ande, il ritmo è ipersonico. Clive Cussler offre, ancora una volta, un'avventura incredibile.»
Kirkus Reviews

«Il re dell'avventura.»
Sunday Express

Quando l'aereo più avanzato mai progettato scompare sopra il Pacifico meridionale, l'ex agente della CIA Kurt Austin e la sua imperturbabile spalla Joe Zavala vengono coinvolti in una corsa mortale per localizzare il velivolo perduto. Russia e Cina bramano la tecnologia dell'aereo, ma gli Stati Uniti devono occuparsi di un problema ben più oscuro. L'X-37 nasconde infatti un segreto pericoloso: è carico di un materiale rarissimo estratto dalla parte superiore dell'atmosfera e conservato a una temperatura prossima allo zero assoluto. Finché rimane congelato, il carico è inerte, ma se si dovesse scongelare potrebbe scatenare una catastrofe di proporzioni inimmaginabili. Dalle Isole Galápagos alle giungle del Sudamerica fino a un lago ghiacciato sulle Ande, da molti ritenuto la culla della civiltà incaica, l'intero team della numa dovrà rischiare il tutto per tutto nel tentativo di evitare il disastro.

Book details
Publisher

Language

Original language

Publication date

Page count

Collection

Series
About the author
Clive Cussler
CLIVE CUSSLER (1931-2020), uno dei rari scrittori in cui vita e fiction risultano indissolubilmente intrecciate, è stato il fondatore della NUMA (National Underwater and Marine Agency), società dedicata al recupero di navi e aerei di rilevanza storica scomparsi in circostanze misteriose, e ha trasposto nei suoi romanzi – tutti bestseller – la propria straordinaria esperienza di cacciatore di emozioni. Le sue opere sono pubblicate in Italia da Longanesi.

I romanzi di Clive Cussler usciti di recente:
Il tesoro dei Romanov
Il cecchino
Come l'alta marea
Il contrabbandiere
I tiranni delle ombre
Pirati
Il destino del faraone
Opzione finale
Lo spettro grigio
Oro nero
L'oracolo perduto



Graham Brown
Graham Brown, avvocato e pilota, è autore dei thriller Black Rain, Black Sun e The Eden Prophecy. Vive in Arizona.