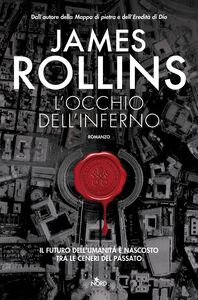 L'occhio dell'inferno
Un'avventura della Sigma Force
James Rollins
«
I libri della Sigma Force sono il massimo della letteratura di intrattenimento.
»
The New York Times
«
I protagonisti della Sigma Force sono grandiosi come i romanzi di questa serie imperdibile.
»
Publisher Weekly
«
Segreti, colpi di scena, intrecci di ampi respiro... Nessuno – ripeto: nessuno – è all'altezza di James Rollins.
»
Lee Child
«
Segreti, colpi di scena, intrecci di ampio respiro... Nessuno – ripeto: nessuno – è all'altezza di James Rollins.
»
Lee Child
Un'avventura della Sigma Force Vol. 11
453 d.C. Nessuno sa cos'è successo. Al termine dell'incontro col papa, Attila ha ordinato al suo esercito di ritirarsi, rinunciando alla conquista di Roma. Solo l'amante del condottiero unno conosce il prezzo pagato per la salvezza della Città Eterna, e ha capito che il contenuto di quello scrigno è troppo pericoloso per essere lasciato nelle mani sbagliate. Attila deve morire.
California, oggi. L'hanno battezzato l'Occhio di Dio. È un satellite all'avanguardia, progettato in segreto dal dipartimento della Difesa per studiare e neutralizzare la materia oscura. Eppure le immagini che Painter Crowe fissa sullo schermo non mostrano né asteroidi né buchi neri. Mostrano l'inferno in terra.
Roma, oggi. Tutti lo credevano morto. Invece, dopo dieci anni di silenzio, l'archeologo Josip Tarasco manda un pacco a monsignor Veroni, agente dei Servizi Segreti vaticani. All'interno ci sono un teschio e un volume rilegato in pelle umana. Ma non è l'aspetto macabro di quegli antichi reperti a inquietare Veroni, bensì il biglietto che li accompagna: una disperata richiesta d'aiuto. Ed è soltanto l'inizio, perché poche ore dopo qualcuno cerca di ucciderlo, facendo saltare in aria il suo appartamento. Sconvolto, Veroni decide di rivolgersi all'unico uomo di cui si può fidare: Painter Crowe, direttore della Sigma Force.
Per ritrovare l'archeologo, Veroni e la squadra di Painter dovranno mettersi sulle tracce di un segreto sconcertante e risolvere un enigma millenario. E scopriranno che la posta in gioco è altissima: il futuro dell'intero genere umano.
Book details
Publisher

Language

Original language

Publication date

Page count

Collection

Series
About the author
James Rollins
Fin dal suo esordio, James Rollins si è segnalato come una delle voci più originali nel campo del romanzo d'avventura e, ben presto, si è imposto come uno degli autori più letti e apprezzati dal pubblico di tutto il mondo.