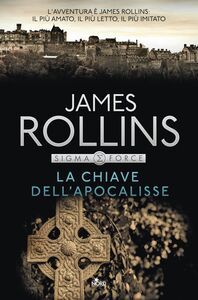 La chiave dell'apocalisse
Un'avventura della Sigma Force
James Rollins
«
Il massimo della letteratura di intrattenimento.
»
The New York Times
«
Segreti, colpi di scena, intrecci di ampi respiro... Nessuno – ripeto: nessuno – è all'altezza di James Rollins.
»
Lee Child
«
I protagonisti della Sigma Force sono grandiosi come i romanzi di questa serie imperdibile.
»
Publisher Weekly
«
I libri della Sigma Force sono il massimo della letteratura di intrattenimento.
»
The New York Times
Un'avventura della Sigma Force Vol. 6
Inghilterra, 1086. Il censimento ordinato da Guglielmo il Conquistatore è stato finalmente portato a termine. La summa di quel lavoro immane è un volume in cui sono elencate tutte le terre e le proprietà del regno. Ma ben presto strane voci cominciano a circolare, e nessuno sa perché due luoghi sono indicati con un'unica, enigmatica parola scritta in inchiostro cremisi: devastato. Circondata da un'aura di mistero, quell'opera monumentale passerà alla storia con un titolo inquietante: Il libro del Giorno del Giudizio.
Oggi. Tre omicidi nell'arco di poche ore. Prima il figlio di un senatore americano che svolgeva attività di volontariato in una fattoria nel Mali; poi un sacerdote, esperto di archeologia e studioso di san Malachia, ucciso da un'esplosione all'interno della basilica di San Pietro; infine un professore di biologia molecolare, trovato morto nel suo laboratorio a Princeton.
Tre vittime connesse da un dettaglio raccapricciante: sui cadaveri è stata impressa a fuoco una croce celtica. E lo scenario che si presenta agli agenti della Sigma si complica ulteriormente quando le indagini del comandante Grayson Pierce rivelano il coinvolgimento di una multinazionale impegnata nella produzione di alimenti geneticamente modificati.
Come mai una ricerca che potrebbe alleviare le sofferenze delle popolazioni africane sembra essere legata a un oscuro flagello che ha colpito l'Inghilterra nel XI secolo e alle visioni di un santo che ha profetizzato la fine del mondo? Per rispondere a questa domanda, Gray dovrà ricostruire le tessere di un mosaico sconcertante e, insieme alle due donne che hanno segnato il suo passato, trovare la chiave per scongiurare un'apocalisse.
Book details
Publisher

Language

Original language

Publication date

Page count

Collection

Series
About the author
James Rollins
Fin dal suo esordio, James Rollins si è segnalato come una delle voci più originali nel campo del romanzo d'avventura e, ben presto, si è imposto come uno degli autori più letti e apprezzati dal pubblico di tutto il mondo.