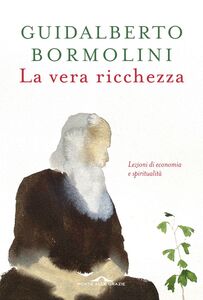 L'umanità ha sete di Infinito, ma purtroppo cerca di saziare questa sete accumulando denaro e risorse economiche, oggetti, prodotti. Oggetti infiniti che non riescono a saziare quella fame e quella sete, anzi. La alimentano di un'insoddisfazione che crea un atteggiamento rapace verso gli altri e verso le risorse del Pianeta. La ricchezza visibile è una falsa ricchezza perché non nutre la felicità del cuore. E se fosse giunto il tempo di dare ascolto ai richiami dei sapienti appartenenti a tante filosofie e spiritualità? Che questo tempo sia giunto è provato dal fatto che oggi la maggior parte degli studi sulla felicità condotti da economisti sembrano confermare le parole dei maestri spirituali di ogni tempo: accumulare beni materiali non garantisce la felicità mentre custodire e condividere ricchezze interiori riempie di senso e di bellezza la vita propria e delle comunità cui si appartiene. Guidalberto Bormolini dà voce in questo saggio alla sapienza di mistici, monaci e poeti che sanno farci intuire che cosa sia la vera ricchezza: ciò che è divino, invisibile, sepolto nella nostra interiorità eppure accessibile. Come scriveva Angelo Silesio:«La ricchezza deve essere in te; ciò che non hai in te, fosse anche il mondo intero, ti è solo di peso».
Book details
Publisher

Language

Publication date

Page count

Collection
About the author
Guidalberto Bormolini
Guidalberto Bormolini ha lavorato come falegname e liutaio. In gioventù incontra la meditazione, entra in una Comunità di meditazione cristiana per vivere gli ideali monastici e viene ordinato sacerdote. È laureato in Teologia, specializzato in Antropologia teologica, è professore al Master End of Life dell'Università di Padova e co-fondatore del Festival di Economia e Spiritualità. Amico spirituale di Franco Battiato, ha condiviso con lui il sogno di portare sulla terra armonie celesti. Da qualche anno lavora alla ricostruzione del borgo «Tutto è vita», un villaggio abbandonato che Bormolini e la sua équipe vogliono trasformare in un luogo di cura integrale (corpo, psiche e spirito), multiconfessionale, dove attraverso la meditazione ci si possa preparare alla trasformazione della morte in vita. Per Ponte alle Grazie ha pubblicato L'arte della meditazione (2022).