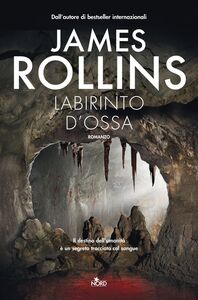 «
Il massimo della letteratura di intrattenimento.
»
The New York Times
«
Prendete il meglio di Michael Crichton e di Clive Cussler e otterrete James Rollins.
»
Associated Press
«
Segreti, colpi di scena, intrecci di ampi respiro... Nessuno – ripeto: nessuno – è all'altezza di James Rollins.
»
Lee Child
«
Rollins è il migliore a rendere credibili avventure incredibili, che ti lasciano sempre con il desiderio di leggerne un'altra.
»
Publishers Weekly
«
Lo scettro del re dei romanzi d'avventura è in mano a James Rollins.
»
The Huffington Post
Un'avventura della Sigma Force Vol. 13

IL DESTINO DELL'UMANITÀ È UN SEGRETO TRACCIATO COL SANGUE

Roma, 1669
Un messaggero imperiale consegna nelle mani di un sacerdote una mappa e una scheggia d'osso. Poi si suicida.
Quale terribile segreto muore con lui?

Croazia, oggi
Un terremoto riporta alla luce un sistema di grotte sconosciuto.
Una squadra di archeologi si avventura in quel labirinto e fa una scoperta inquietante, ma poi rimane intrappolata da una frana.
È un incidente o un sabotaggio?

Parigi, oggi
Gray Pierce, agente della Sigma, è in vacanza quando gli viene ordinato di partire immediatamente in aiuto degli archeologi in trappola.
Ma ben presto capisce che la posta in gioco è molto più alta...

Roma, 1669. Un soldato s'inchina al cospetto di padre Athanasius Kircher, uno dei più autorevoli sapienti del mondo. Gli consegna una mappa, una scheggia d'osso e un messaggio. Poi si suicida. Perché nessuno possa estorcergli con l'inganno o la tortura il suo terribile segreto.
Croazia, oggi. Quando la paleoantropologa Lena Crandall s'inoltra in un complesso di grotte appena riportate alla luce da un terremoto, capisce di essere di fronte a una scoperta eccezionale: alcune elaboratissime pitture rupestri che raffigurano uomini e animali minacciati da enormi sagome inquietanti. Chi – o cosa – sono quelle figure? Prima di riuscire a porsi altre domande, però, un nuovo sisma fa tremare la terra, imprigionando lei e il suo gruppo nell'oscurità.
Parigi, oggi. A Gray Pierce non capita spesso di potersi prendere una vacanza. E infatti viene subito richiamato in servizio dalla Sigma Force per soccorrere il team della dottoressa Crandall. Ma quella missione di salvataggio si trasformerà ben presto in una sfida mortale contro un nemico sfuggente e antichissimo, che rischia di essere oltre le sue possibilità. Perché se Gray non riuscirà a fermare quella forza distruttrice, la vita sulla Terra potrebbe cambiare per sempre. O finire nel silenzio.
Book details
Publisher

Language

Original language

Publication date

Page count

Collection

Series
About the author
James Rollins
Fin dal suo esordio, James Rollins si è segnalato come una delle voci più originali nel campo del romanzo d'avventura e, ben presto, si è imposto come uno degli autori più letti e apprezzati dal pubblico di tutto il mondo.