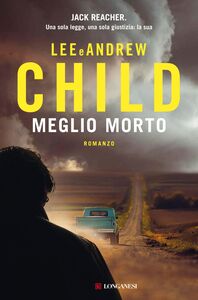 «Jack Reacher si è ampiamente guadagnato un posto nel pantheon degli eroi americani.»
The New York Times

«Jack Reacher è un eroe straordinariamente epico: duro, taciturno eppure fragile. Irresistibile. »
People

«Jack Reacher è un eroe straordinariamente epico: duro, taciturno eppure fragile. Irresistibile.» People

Mi guardo intorno e vedo il nulla. Proprio ciò che cercavo. Questa cittadina di confine non ha niente da offrire: nessun negozio decente, nemmeno un posto dove bere un buon caffè. Qui non ci viene nessuno in vacanza: qui ci si arriva solo se si ha un motivo. Io un motivo ce l'ho. E se non ce l'ho, lo trovo. Sempre. Per questo, quando osservo la scena che ho di fronte, non posso non farmi qualche domanda. Una strada deserta dell'Arizona, un fuoristrada schiantato contro l'unico albero nel raggio di miglia e miglia, nessuna traccia del guidatore. Domande che esigono una risposta. È soprattutto lei ad esigerla: si chiama Michaela Fenton, è una veterana dell'esercito che lavora per l'FBI, e ha un problema. Suo fratello gemello è scomparso, forse quell'incidente non è stato casuale, ma in questo posto nessuno parla. Qui ognuno sembra pensare «meglio morto che informatore». Ma io gli farò cambiare idea.


Book details
Publisher

Language

Original language

Publication date

Page count

Collection

Series
About the author
Lee Child
Lee Child è nato a Coventry, in Inghilterra, nel 1954. Dopo aver lavorato per vent'anni come autore di programmi televisivi, nel 1997 ha deciso di dedicarsi alla narrativa: il suo primo libro, Zona pericolosa, è stato accolto con un notevole successo di pubblico e critica, e lo stesso è accaduto per gli altri romanzi d'azione incentrati sulla figura di Jack Reacher, personaggio definito dall'autore «un vero duro, un ex militare addestrato a pensare e ad agire con assoluta rapidità e determinazione, ma anche dotato di un profondo senso dell'onore e della giustizia». Nel 2019 è stato proclamato Autore dell'anno dal British Book Awards.
Lee Child vive negli Stati Uniti dal 1998.
I titoli di Child in edizione Longanesi: Destinazione inferno, Trappola mortale, Via di fuga, Colpo secco, Il nemico, A prova di killer, La vittima designata, Vendetta a freddo, Niente da perdere, I dodici segni, L'ora decisiva, Una ragione per morire, Un passo di troppo, La verità non basta, Il ricercato, Personal, Prova a fermarmi, Inarrestabile, Il passato non muore, Implacabile e, con Andrew Child, L'ultima sentinella e Meglio morto. È anche autore delle raccolte di racconti Il mio nome è Jack Reacher e Sempre io, Jack Reacher. Da La prova decisiva e Punto di non ritorno sono stati tratti i film con Tom Cruise nei panni di Jack Reacher. A Reacher è ispirata anche l'omonima serie tv.

Andrew Child
Andrew Child, fratello minore di Lee Child, è autore di nove thriller firmati come Andrew Grant. Nato a Birmingham, vive in Wyoming con la moglie, la scrittrice Tasha Alexander.