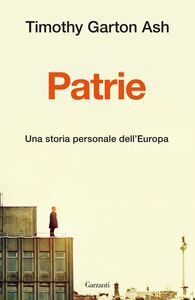 «Un capolavoro di analisi storica e politica»
Publishers Weekly

«La scelta del tema è senza dubbio tempestiva, la ricerca esauriente e l'erudizione di Garton Ash impressionante.» »
The Sunday Times

«Una brillante riflessione, un ottimo punto di partenza per qualsiasi dibattito»
The New York Review of Books

«Rivelatore e provocatorio»
The Guardian

Grande storico della contemporaneità, Timothy Garton Ash è figlio del sogno europeo che dal secondo dopoguerra a oggi, malgrado tutto, ancora non smette di affascinare. Di questo sogno Patrie ripercorre trionfi e tragedie muovendosi magistralmente tra analisi politica, reportage e memoria intima. Attraversando luoghi ed eventi che hanno segnato il passato e ancora incidono sulle nostre vite, Garton Ash ritorna, sul filo dei ricordi paterni, al giorno dello sbarco in Normandia; racconta cosa significa essere sorvegliato dalla Stasi; rivive i numerosi incontri della sua carriera, ciascuno in grado di offrire un'idea diversa di futuro, dai guerriglieri tra le montagne del Kosovo agli adolescenti delle banlieue parigine, fino ai presidenti e primi ministri dei maggiori paesi. E nel riflettere su come l'Europa si sia lasciata alle spalle la devastazione delle armi e abbia costruito sulle macerie del muro di Berlino un futuro di democrazia, rivolge un appello urgente ai cittadini di questo antico continente affinché comprendano e difendano ciò che è stato tanto faticosamente conquistato, e continuino a lavorare per un futuro condiviso.

Book details
Publisher

Language

Publication date

Page count

Translator

Collection
About the author
Timothy Garton Ash
Timothy Garton Ash è autore di numerosi libri. Insegna presso le università di Oxford e di Stanford. Suoi contributi appaiono regolarmente sulla «New York Review of Books» e sul «Guardian», e in Italia su «la Repubblica». Ha ricevuto numerosi premi, tra cui il Somerset Maugham Award e il George Orwell Prize.