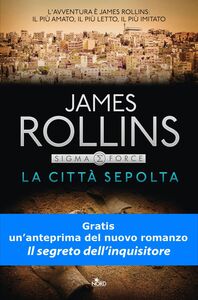 «
I protagonisti della Sigma Force sono grandiosi come i romanzi di questa serie imperdibile.
»
Publisher Weekly
«
I libri della Sigma Force sono il massimo della letteratura di intrattenimento.
»
The New York Times
«
Segreti, colpi di scena, intrecci di ampi respiro... Nessuno – ripeto: nessuno – è all'altezza di James Rollins.
»
Lee Child
«
Il massimo della letteratura di intrattenimento.
»
The New York Times
«
Lo scettro del re dei romanzi d'avventura è in mano a James Rollins.
»
The Huffington Post
Un'avventura della Sigma Force Vol. 1
L'esplosione che ha distrutto la Galleria Kensington del British Museum sembra non avere spiegazioni. Le ultime immagini delle telecamere di sorveglianza mostrano una sfera di luce che, entrando in contatto con un antico manufatto, innesta una reazione devastante. Nessuno riesce a capire cosa abbia scatenato quel bizzarro fenomeno naturale, eppure Safia al-Maaz, la brillante curatrice della collezione araba, scopre tra le macerie un oggetto sorprendente, rimasto nascosto per millenni, un cuore di ferro con inciso un nome leggendario: Ubar, la città perduta della regina di Saba. Anche Painter Crowe, agente segreto della Sigma, partecipa alle indagini per individuare l'origine dell'esplosione.
Quella che sembra un'affascinante sfida scientifica diventa improvvisamente una missione mortale, quando una misteriosa organizzazione tenta d'impadronirsi del cuore di ferro: quell'oggetto è il primo indizio che conduce a un'immensa fonte d'energia, forse proprio la causa della scomparsa di Ubar, l'Atlantide del deserto, che secondo le leggende è stata sepolta da un'imponente tempesta di sabbia.
Da Londra al golfo Persico, da Washington al deserto arabo, Painter e Safia dovranno affrontare non solo gli enigmi e i misteri del passato, ma anche un nemico implacabile, in una corsa contro il tempo per scongiurare una catastrofe senza precedenti.
Le avventure della Sigma Force

La città sepolta
La mappa di pietra
L'ordine del sole nero
Il marchio di Giuda
L'ultimo oracolo
La chiave dell'apocalisse
Il teschio sacro
L'eredità di Dio
L'occhio dell'inferno
Estinzione
Labirinto d'ossa
La settima piaga
La corona del diavolo - disponibile dal 27 settembre 2018


I racconti della Sigma Force


Il tempio del sole
L'oro perduto
La nave fantasma


Gli altri romanzi

Artico
Amazzonia
L'altare dell'eden
La via d'oro
L'ultima eclissi
La città di ghiaccio

Book details
Publisher

Language

Original language

Publication date

Page count

Collection

Series
About the author
James Rollins
Fin dal suo esordio, James Rollins si è segnalato come una delle voci più originali nel campo del romanzo d'avventura e, ben presto, si è imposto come uno degli autori più letti e apprezzati dal pubblico di tutto il mondo.